If you want to access your preferred websites quickly and without hassle, Microsoft Edge offers a straightforward solution: converting websites into apps. With this feature, you can launch your favorite sites directly from your desktop or taskbar, bypassing the need to open the browser first.
How to convert any website into an app
The process should be similar on both Mac OS and Windows versions of Microsoft Edge.
Open Microsoft Edge: Start by launching Microsoft Edge.
Choose Your Website: Navigate to the website you wish to install as an app. This could be your favorite online store, news outlet, or productivity tool.
Access the Three-Dot Menu: In the top-right corner of the browser window, you'll find the three-dot menu icon. Click on it to reveal a drop-down menu.
Select "Apps" Option: Within the menu, look for the "Apps" category and click on it to reveal additional options.
Install the Site as an App: Among the options, you'll find "Install this site as an app." Click on this option to initiate the installation process.
Customize and Confirm: Give your new app a name that is easy to recognize. After naming it, click the "Install" button to confirm your selection.
Access Your App: Once the installation is complete, you'll find the newly created app in your app tray. For even quicker access, you can pin it to your taskbar.
Launch with Ease: You're all set! To access your website-turned-app, simply open it as you would any other app on your computer.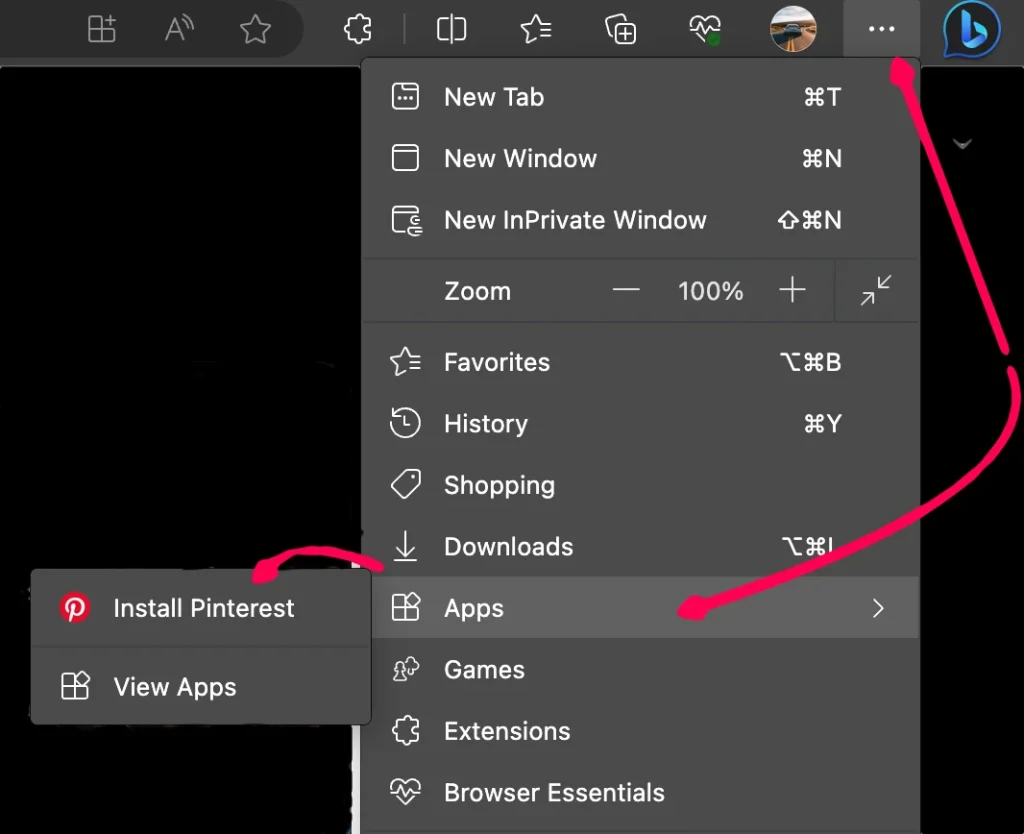 The Benefits of Website-to-App Conversion
Unparalleled Convenience: The primary benefit of this feature is the convenience it offers. No more sifting through bookmarks or typing in URLs; your favorite websites are just a click away.
Powerful Web Apps: Many websites now offer web apps that work just as seamlessly as their native counterparts. By converting them into apps, you can harness their full potential without any compromises.
Optimized Storage: If a website offers an app version, it often takes up less storage space on your device compared to a traditional native app. This is particularly advantageous for those with limited storage capacity.
Speed and Simplicity: The conversion process is quick and hassle-free. There's no need to download large files or go through complicated installation procedures.
Enhanced Focus: For those seeking enhanced productivity and focus, having websites isolated in their own window can be a game-changer. It helps reduce distractions and keeps your workspace clutter-free.
Automatic Icon Integration: Microsoft Edge automatically uses the site's icon for the app, ensuring that it's easily recognizable in your app tray or taskbar.
Offline Access: Some website apps allow you to access content even when you're offline, making them ideal for travelers or those with inconsistent internet connections.
Enhanced Security: Website apps can benefit from browser security features, helping protect your data and privacy.
Cross-Platform Access: Depending on your browser and device, you can often access a site across multiple platforms, including mobile and desktop.
Customization: Some website apps offer customization options, allowing you to tailor your browsing experience to your preferences.
The ability to turn websites into apps on Microsoft Edge is a neat feature that offers convenience, speed, and focus in your web browsing sessions. By following the steps outlined in this guide, you can unlock a more efficient and enjoyable online experience. So, give it a try!
---
---
Disclosure: Vividbay is a participant in the Amazon Associates Program. We may earn a commission from qualifying purchases.