The latest Acer Predator Helios 500 is a step up from its predecessor. It features an Intel Core i9 processor, NVIDIA GeForce RTX 3080 graphics card, a 4K Mini LED 120Hz display, 64GB of DDR4 memory, 2 TB SSD and more. But, in the face of growing competition, can the Helios 500 hold its place?
Acer Predator Helios 500 performance
The Acer Predator Helios 500 is a powerhouse when it comes to performance. It's equipped with an Intel Core i9-11980HK processor, which provides fast and efficient computing power. The processor is an octa-core (8 cores and 16 threads) clocked at a speed of 2.6GHz and a Turbo boost clock speed of 5GHz.
Rest assured, the Predator Helios 500 can handle anything you throw at it. Whether it's playing the latest AAA titles, video editing or 3D rendering, performance is not an issue.
Note: The Predator Helios 500 has a cheaper model that comes with an Intel Core i7-11800H processor.
Acer Predator Helios 500 graphics
The laptop features an NVIDIA GeForce RTX 3080 graphics card (16GB dedicated memory) allowing for smooth and responsive gaming visuals, even on the most demanding titles. Paired with a 120Hz 4K Mini LED display, it's a match made in heaven.
The RTX 3080 has all the bells and whistles of a modern card, including Ray Tracing, NVIDIA DLSS (AI rendering to boost fps), 4K gaming, 3rd gen Tensor cores and more. Though this GPU is a couple of years old, it's still powerful and relevant.
Take a look at Returnal, an acclaimed Playstion exclusive coming to PC. The minimum recommended specs to run this game include a 6GB GTX 1060 video card and 16GB of RAM. While this is childs play to the Helios 500, it does show how demanding future games will become.
Note: The Helios 500 can be configured with a less powerful RTX 3070 (8GB dedicated memory). But it's still an amazing graphics card.
Acer Predator Helios 500 memory and storage
The Predator Helios 500 sports 64GB of DDR4 memory and a 2 TB SSD. Multitasking and running multiple programs at once is a breeze. You can have multiple chrome tabs open, music and YouTube playing in the background while playing Red Dead Redemption 2. And you still won't have performance issues.
The 2TB SSD is also great. It ensures boot-up and load times are fast, providing a quick and responsive experience.
Furthermore, Games are getting ridiculously big. With games like Call of Duty: Black Ops Cold War, taking a massive 250GB worth of space, having a 2TB SSD makes a lot of sense.
Note: There's a less expensive model of the Helios 500 (PH517-52-78A9) that has 1TB SSD and 16 GB DDR4 RAM.
Acer Predator Helios 500 display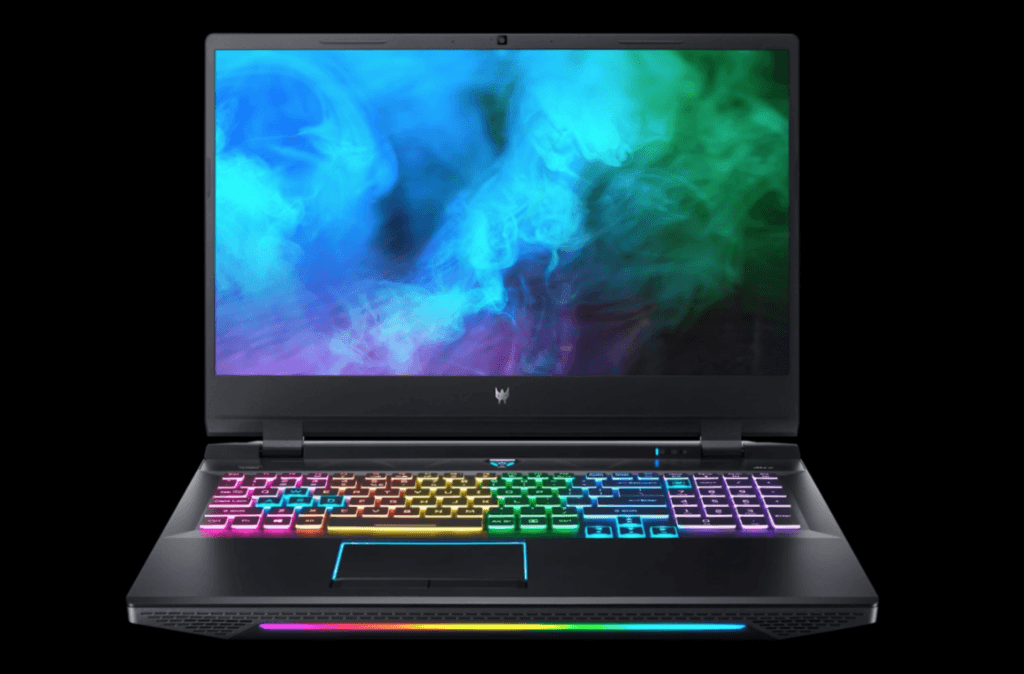 The 120Hz 4K Mini LED panel on the Helios 500 is a standout feature. The refresh rate provides smooth and responsive visuals, making it perfect for gaming. The Mini LED technology ensures that colors are vibrant and accurate, and black levels are inky dark. This provides sharp and clear images in dark scenes. Additionally, if you turn on HDR, the contrast levels provide a pleasant viewing experience.
The viewing angles are also wide, making it easy to game at different positions. Overall, the display is great and is a step above older gaming laptops with 1080p displays.
The Helios 500 features HDMI 2.1 allowing you to plug into external displays such as 8K 60Hz, 4K 120 Hz and even a 10K display.
Acer Predator Helios 500 Keyboard and Touchpad
The Helios 500 has a comfortable and responsive keyboard that is perfect for gaming and typing. The keys have good travel and provide satisfying tactile feedback.
The keyboard also has customizable RGB lighting, which adds a nice touch of style and personalization. Here's a list of features.
Audio Sync: Keyboard RGB will change with audio. This is one of those gimmicky features that is nice to have.
Screen sync: Keyboard lighting will be matched with colors on the screen, making the gaming experience more immersive.
Per key RGB: Allows for a high degree of customization of the lighting on a keyboard. Each individual key can be set to a specific color, and different lighting effects can be created by programming the keys to change color in a certain pattern or sequence. This can be useful for gaming, as it can allow the user to easily identify certain keys, or for general use, as it can add a personalized touch to the keyboard.
Additionally, per-key RGB lighting can also be used to increase the visibility of the keys in low-light conditions or to match the color scheme of other devices in the setup.
To learn more about Per key RGB keyboards, check out our post.
Improved MagTek Switches and WASD keys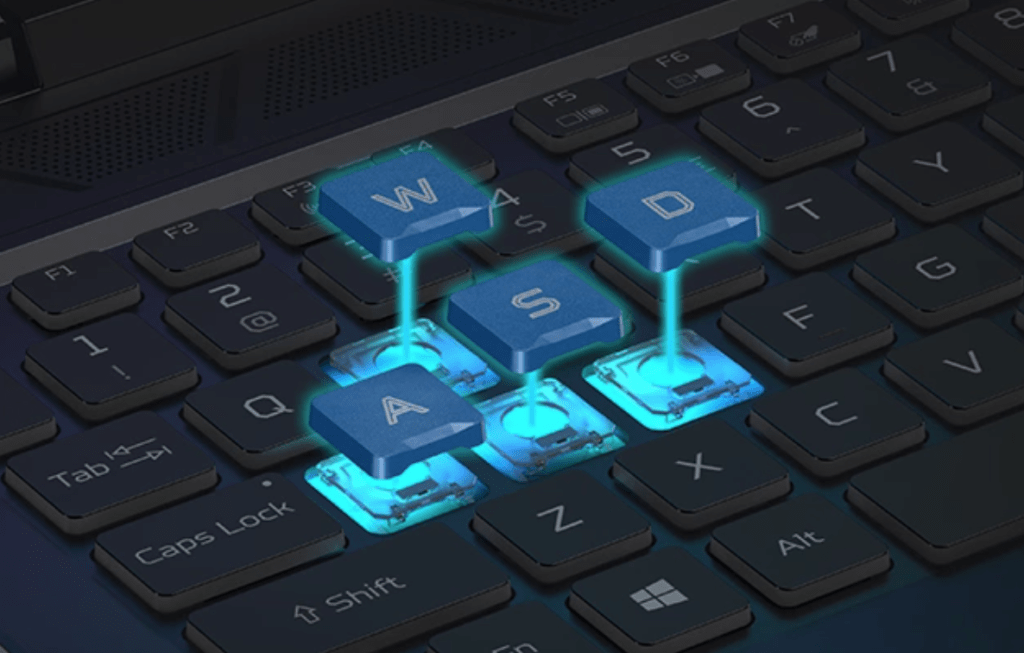 WASD keys are the most commonly used keys for movement in computer games. They are named for the four keys that typically control movement: W for forward, A for left, S for backward, and D for right.
Predator Helios 500 WASD keys function like a gamepad's analog joystick, allowing for different pressure inputs for precise control.
WASD keys on this laptop can be swapped out between Magforce keys and Racing keys.
Racing keys: These are curved concave-shaped keys that are comfortable for long playing sessions.
Magforce keys: These have no bump when pressing, with a travel distance of 3.0 mm, making them ideal for any game.
Overall, keyboards with mechanical MagTek switches provide the best experience for gaming and typing. The construction of the switches is designed to be more robust than traditional rubber dome switches, which can wear out over time. And they provide a longer lifespan and better overall performance.
Note: You'll have to activate MagForce keys settings in the Predator Sense.
Touchpad
The touchpad is responsive and accurate. Most gamers will preferably use a mouse when gaming, but it's nice to have it for other tasks.
Predator Helios 500 design and build quality
The Helios 500 falls on the heavier side but looks surprisingly stylish (that's debatable). On the back, the air vents look aggressive, with an RGB light strip passing on the top and a backlit logo.
The front also commands a powerful presence with RGB lighting on the keys, trackpad and sides. Overall the build quality is solid as it feels sturdy and well-constructed.
Predator Helios 500 Ports
The laptop is equipped with two Thunderbolt 4 ports, HDMI 2.1, Mini display port, LAN, three USB A ports and a headphone jack.
Price
The Predator Helios 500 retails at a price tag of $4,449.99 for the (PH517-52-98X1) model and $2,499.99 for the lower spec'd (PH517-52-78A9) model.
If you're looking to save on an older model, here's a link.
Speaker quality
The Helios 500 features an integrated DTX:X 360 audio engine, which provides rich and immersive audio. The speakers are also loud and clear, providing a great audio experience for gaming and media consumption. DTX:X also works on headphones.
Battery life
The Helios 500 offers powerful performance, but its battery life is below average, lasting only 1-4 hours depending on usage. This is particularly an issue when playing demanding games, making it a drawback for gamers who often play on the go.
Note: Reducing screen brightness can help with battery life.
Specs overview
Connectivity
WiFi 6. Wi-Fi 6 (also known as 802.11ax) is the latest generation of Wi-Fi technology, and it offers several improvements over previous versions that make it well-suited for use in gaming laptops. Some of the benefits of Wi-Fi 6 include; faster speeds, lower latency and improved performance on crowded environments.
5G: This is an optional feature, but it's great to have it.
There is also another model, the PH517-52-78A9. You can find the specs here.
Predatorsense app
The app provides a range of features, such as monitoring system temperature and fan speed, controlling overclock settings and creating custom macro keys and lighting effects. The application also includes a gaming dashboard for launching games and recording gameplay.
There are four modes to choose from:
Heat management
Acer designed their thermal system to be large in order to dissipate heat efficiently. The laptop is able to maintain stable internal temperatures while running games, however, the fan noise can be quite noticeable.
Is there an AMD version of the Predator Helios 500?
Yes, Acer did offer an AMD version of the Predator Helios 500, however, this option is not available for the updated models. Tomshardware did a great review of this model. You can check it out here.
The downsides of the Predator Helios 500
The Acer Predator Helios 500 is a powerful and feature-rich laptop, but it does have some downsides. Some additional negatives of this laptop include:
Battery life: As mentioned earlier, the battery life on the Helios 500 could be better. It will likely need to be kept plugged in while in use, especially when gaming.
Weight and Size: The Helios 500 is a large and heavy laptop, measuring at 15.7 (w) x 12.6 (d) x 1.5 (h) inches and weighing 8.77 pounds for the US version. This makes it less portable than other laptops and may be less convenient to carry around.
Price: The Helios 500 is a high-performance laptop and it's priced accordingly. It may be out of reach for some buyers on a budget.
Loud fans: The cooling system is efficient, but it can get loud under heavy loads, which may be distracting for some users.
Overall, the Acer Predator Helios 500 is an excellent choice for gaming enthusiasts. It features a powerful Intel Core i9 processor, a stunning Mini 4k display, 64GB of DDR4 memory, and a 2TB SSD. The 120Hz refresh rate ensures smooth and responsive visuals, making it perfect for gaming. The keyboard is comfortable to use, and it includes customizable RGB lighting.
While not perfect, the Helios 500 is a laptop worthy of the Predator name. The battery life is poor and the fans are loud, but it's always ready for the hunt.
You can also check out our review of the Dell Precision 7730 here!
Predator Helios 500 verdict
The Acer Predator Helios 500 is a powerful gaming laptop with noteworthy features such as a robust thermal design, a mini LED 4K screen option, solid build quality and an RTX 3080 graphics card. However, its substantial size and weight, as well as limited battery life, may be disadvantages for some. Nevertheless, it's still a beast.
---
Disclosure: Vividbay is a participant in the Amazon Associates Program. We may earn a commission from qualifying purchases.