Working remotely presents its own set of challenges, particularly when it comes to attending online meetings and collaborating with a remote team. However, with the right gadgets and accessories, you can significantly improve your work-from-home experience, making it more comfortable and productive. In this article, we will explore a selection of must-have gadgets for remote work and virtual meetings.
1. Wireless Charging Station: Keep Your Devices Powered Up with Ease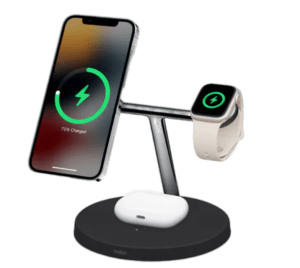 A wireless charging station eliminates the hassle of tangled cords and allows you to effortlessly keep your devices powered up. Charge your smartphone, tablet, earbuds, smartwatch, and other compatible devices without the need for multiple chargers. Some wireless charging stations even offer additional USB ports for increased connectivity. If you're constantly staying connected throughout the day, a wireless charging station is a thoughtful gift to yourself or your fellow remote workers.
2. Noise-Canceling Headphones: Focus and Communicate Effectively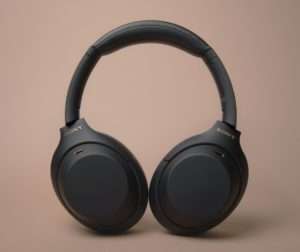 Working in a noisy environment or dealing with background noise during online meetings can be distracting. Noise-canceling headphones are the solution, as they effectively cancel out unwanted sounds, enabling you to concentrate on your tasks or conversations. With high-quality microphones that capture your voice clearly and reduce echo, these types of headphones are essential for remote workers who aim to communicate professionally and efficiently.
3. Device Sanitizer or Cleaning Kit: Maintain Clean and Hygienic Devices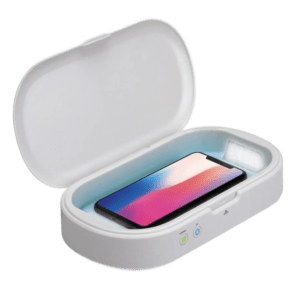 When working from home, our devices are constantly in use, increasing the likelihood of dirt, dust, and germs accumulating on them. To keep your devices clean and hygienic, a device sanitizer or cleaning kit is crucial. These gadgets utilize UV light or alcohol wipes to disinfect your devices, eliminating dust, fingerprints, and smudges. Investing in a device sanitizer or cleaning kit is a smart way to protect your health and prolong the lifespan of your devices.
4. Lume Cube: Enhance Your Video Calls with Flattering Lighting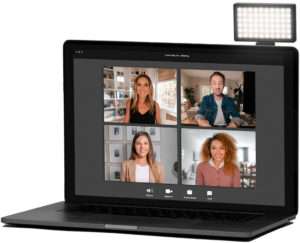 The Lume Cube is a portable LED light that enhances the quality of your video calls. Attachable to your laptop, tablet, or phone, it provides adjustable brightness and color temperature, allowing you to create optimal lighting conditions that eliminate shadows and glare. For remote workers who strive to look their best on camera, the Lume Cube is a handy gadget to have.
5. DTEN Zoom for Home Remote Office Device: Elevate Your Virtual Meetings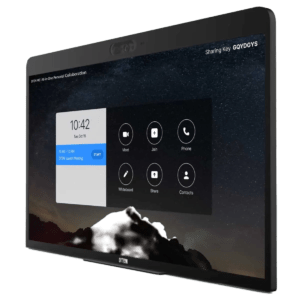 For a next-level virtual meeting experience, the DTEN Zoom for Home Remote Office Device is a game-changer. This gadget is a 27-inch touchscreen monitor designed to seamlessly integrate with Zoom, enabling you to join meetings with a single touch. Equipped with eight noise-reducing microphones, three smart webcams, and high-precision calling capabilities, it even syncs with your calendar, displaying your upcoming meetings. If you frequently use Zoom and require flawless collaboration, the DTEN Zoom for Home Remote Office Device is a must-have gadget.
Other Essential Gadgets
High-quality Webcam: Ensure a professional appearance during virtual meetings with autofocus, noise reduction, and at least 1080p resolution.
Ergonomic Keyboard and Mouse: Reduce discomfort associated with extended computer use by opting for wrist, hand, and arm-friendly designs.
Standing Desk: Stay active and avoid prolonged sitting by investing in an adjustable standing desk.
Good Lighting: Create a professional ambiance during video calls by facing a window or light source and consider additional lighting options such as a ring light or desk lamp.
Comfortable Chair: Prioritize lumbar support and adjustability to prevent back pain and enhance overall comfort.
Second Monitor: Increase productivity by expanding your screen space with a second monitor.
A Good Internet Connection: Ensure smooth video calls and efficient file sharing by maintaining a reliable and fast internet connection. Slow or unreliable internet can disrupt your workflow and communication.
A Reliable Laptop: Invest in a dependable laptop with long battery life, a powerful processor, and ample storage space. A reliable laptop is crucial for seamless remote work.
In summary
Working remotely and participating in virtual meetings can be challenging, but with the right gadgets, you can optimize productivity and improve comfort. These are just a few of the must-have gadgets for remote work and virtual meetings.
By investing in these gadgets, you can create a more comfortable and productive workspace.
---
Disclosure: Vividbay is a participant in the Amazon Associates Program. We may earn a commission from qualifying purchases.