Apple has recently revealed the long-awaited iPhone 11 which also has a more expensive pro version. The phone appears to get mixed reviews appearance-wise, especially with the humongous camera real estate on the rear. I see a lot of kitchen stove jokes on the camera. Regardless, the device seems to be a worthy upgrade, especially for people who love photography. This will, however, be confirmed once a full review of the device is done.
Apple unveiled 3 versions of the iPhone 11, the cheapest being the iPhone 11 (With a 6.1 inch LCD screen) which will cost $699 and the pro versions running at $999 (5.8" Super Retina XDR OLED) for the pro and $1099 (6.5″ Super Retina XDR OLED) for the pro max. On the front, all 3 versions look identical to their predecessor, as they maintain the beautiful bezeless design. The body has glass on the front and back, with a stainless steel frame for the sides.
The usual annual upgrades were made such as a faster processor, better screen and of course a better camera. All phones boost the new 7 nm+ A13 bionic chip, which is supposed to deliver the snappiest experience on any smartphone. The RAM is also set at 4GB on all phones. This might be shocking to some as there are phones that currently have 12GB of RAM. Worry not, Apple is well known to optimize their phones for the best performance. Usually, their phones outperform their competitors.
Other features include wireless charging, faster Face ID, improved battery life, IP68 water resistance and an ultrawide lens for the pro versions. Below is a comparison of the specs of the iPhone 11. Credit to Gsmarena for the picture.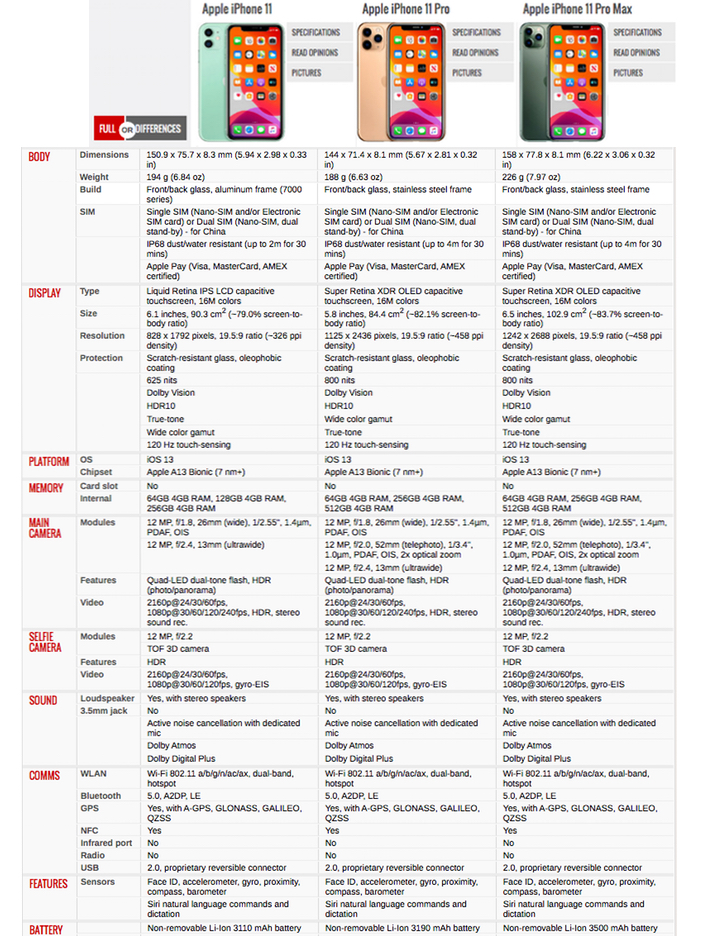 The camera seems to be the highlight of the pro versions. The camera has triple lenses. An ultrawide lens (ƒ/2.4 aperture and 120° field of view) for taking those wide shots, a wide lens (ƒ/1.8 aperture) and a telephoto lens (ƒ/2.0 aperture). These phones might just be one of the best camera phones this fall. If you want to buy a phone only for the camera, you might want to wait and see what Google will offer in October. So far all versions of the iPhone 11 look promising. Kudos to Apple.
Apple also decided to include a fast charger on the pro versions. It's about freaking time!!!!