Google's Pixel A series has been a popular choice for those who want a premium smartphone experience at a mid-range price point. Google has continued to expand its A series, and in this article, we will be comparing two popular models: the new Pixel 7a and the Pixel 7. 
On the surface, both phones share many similarities, including the Tensor G2 chipset, a 90Hz OLED display, 8GB of RAM, and the latest Android software. So is the 100$ difference enough to make the Pixel 7A the better choice? Let's find out.
Design: Premium Look vs Durability
When it comes to design, the Pixel 7 and Pixel 7a share a lot of similarities. They are almost identical in appearance, making it hard to tell them apart when placed next to each other. On the front, both phones feature a hole-punch camera, and on the back, the camera module is located in the same position, with the only notable difference being the size of the phones.
Another way to differentiate between the two phones is by their color options. The Pixel 7 is available in three colors, which are Lemongrass, Obsidian, and Snow. Meanwhile, the Pixel 7a offers four color choices; Coral (which is an online exclusive), Sea, Charcoal, and Snow.
In addition to differences in color options, the two phones also have variations in screen size. The Pixel 7 has a slightly larger display, measuring 6.3 inches, compared to the Pixel 7a's 6.1 inches. However, both phones have the same screen resolution and refresh rate. 
The materials used in the phones' construction also differ, with the Pixel 7 featuring Gorilla Glass Victus on both sides for added durability, while the Pixel 7a has a plastic back that may be more susceptible to scratches. Despite this, both phones have an IP rating for water and dust resistance. The Pixel 7 has an IP68 rating, while the Pixel 7a has an IP67 rating.
Price: The $100 difference
The Pixel 7a is $100 cheaper than the Pixel 7, starting at $499 for the 128GB model. In comparison, the Pixel 7 starts at $599 for the same storage size, and also offers a 256GB option for $699.
Camera: More Megapixels, Same Great Photos
The Pixel 7a has a higher-resolution main camera than the Pixel 7, with a 64MP sensor vs a 50MP sensor. However, both phones use Google's computational photography to produce stunning images with HDR+, Night Sight, Portrait Mode, and more. The Pixel 7a also features a 13MP ultrawide camera and a 13MP selfie camera, while the Pixel 7 has a 12MP ultrawide camera and a 10.8MP selfie. In terms of camera quality, you can't go wrong with either.
Performance: Equally Powerful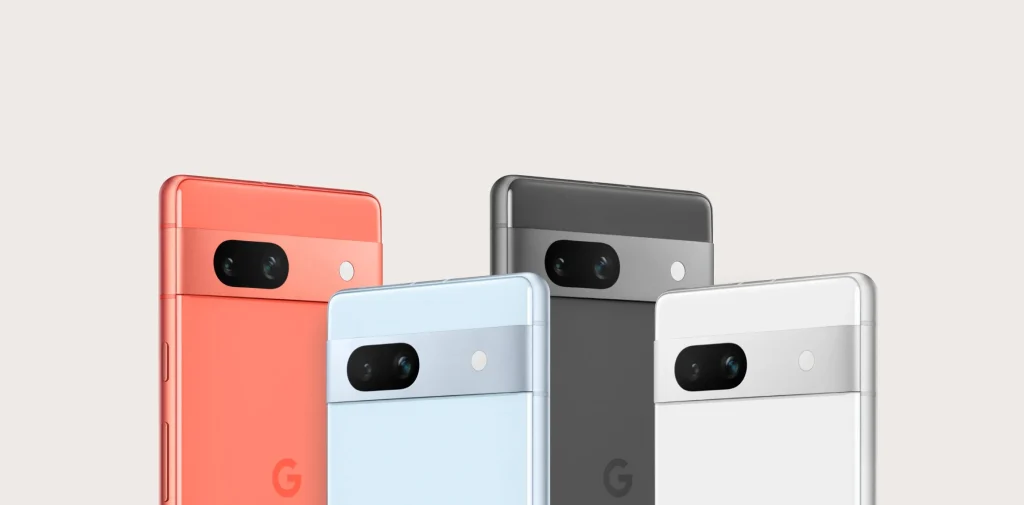 Both phones are powered by the Tensor G2 chipset, which is Google's own custom-made processor that enables faster and smarter performance. The Tensor G2 also supports advanced AI features such as Live Translate, Voice Typing, Hold for Me, and more. Both phones have 8GB of RAM and run on Android 13, and they will get at least three years of OS updates and security patches.
Battery
The Pixel 7a has a slightly larger battery than the Pixel 7, with a capacity of 4,385 mAh vs 4,355 mAh. However, both phones should last for a full day of use with moderate to heavy usage. The Pixel 7 also supports faster charging speeds than the Pixel 7a, with up to 20W wired charging vs up to 18W wired charging. Both phones support wireless charging, but the Pixel 7a has slower wireless charging. The Pixel 7 also has reverse wireless charging, which in my opinion, is a lifesaver when you forget to charge accessories.
Specifications
Display
Pixel 7: 6.3-inch OLED display with a resolution of 1080 x 2400 pixels and a 90Hz refresh rate
Pixel 7a: 6.1-inch OLED display with a resolution of 1080 x 2400 pixels and a 90Hz refresh rate
Processor
Pixel 7: Google Tensor G2 processor
Pixel 7a: Google Tensor G2 processor
RAM
Pixel 7: 8GB of RAM
Pixel 7a: 8GB of RAM
Storage
Pixel 7: 128GB or 256GB of storage
Pixel 7a: 128GB of storage
Camera
Pixel 7: 50MP main camera, 12MP ultrawide camera, and 10.8MP front-facing camera.
Pixel 7a: 64MP main camera, 13MP ultrawide camera, and 13MP front-facing camera
Battery
Pixel 7: 4355mAh battery
Pixel 7a: 4385mAh battery
Software
Pixel 7 and Pixel 7a: Launched with Android 13
Price
Pixel 7: $599
Pixel 7a: $499
 Which one should you choose: The Pixel 7 or Pixel 7a?
The Pixel 7a and the Pixel 7 are both excellent phones for the price. However, the Pixel 7 may be a better deal because of its premium build quality and bigger screen. With only a 100$ difference separating the two, it's clear that the Pixel 7 offers more for the money. Nonetheless, you can't go wrong with either.
For more Pixel, click here to read about whether the Pixel 2 is worth buying in 2023.
---
Disclosure: Vividbay is a participant in the Amazon Associates Program. We may earn a commission from qualifying purchases.