Enhance your ChatGPT chatbot interactions with TypingMind, a user-friendly Mac application that enhances the way you engage with ChatGPT, the powerful natural language generation system developed by OpenAI. 
With TypingMind you can converse with diverse AI characters, explore prompts from the community or create your own, conveniently search your chat history, and seamlessly supplement your ChatGPT conversations with web search. 
In this post, we'll delve into how you can get started with TypingMind and explore its features.
Getting Started with TypingMind
To use TypingMind, you'll need an OpenAI API key. Acquiring one is simple, as you can obtain it directly from the OpenAI website. Once you have your API key, enter it into the TypingMind app, and you're all set.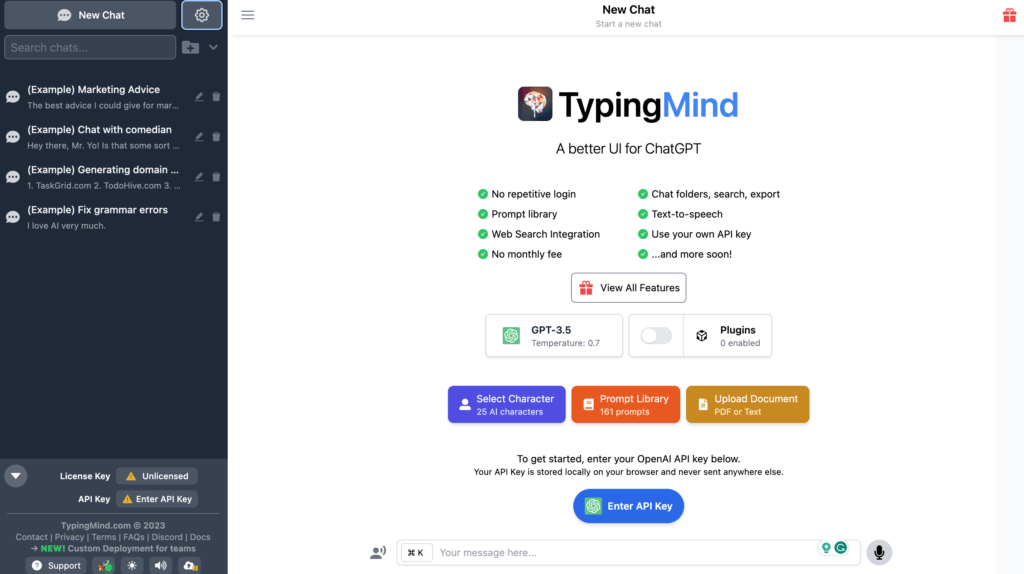 Unleashing the Power of AI Characters
A standout feature of TypingMind is its AI characters. With a diverse array of personalities and writing styles, you can select from various intriguing personas, including a standup comedian, a professional chef, a software developer, and more. Engage these AI characters by posing questions, requesting specific pieces of text, or simply enjoying a casual conversation. Each AI character promises a unique experience, making your interactions all the more engaging and enjoyable.
Harnessing the Potential of the Prompt Library
Within TypingMind lies an invaluable asset: the prompt library. This feature enables you to access a vast collection of prompts contributed by the community or create your very own. Prompts serve as concise texts that provide ChatGPT with vital context and instructions, directing it to generate diverse content such as poems, stories, summaries, code snippets, and much more. Additionally, you can effortlessly organize your prompts with tags, facilitating convenient retrieval whenever you need them.
Seamlessly Integrating Web Search
TypingMind seamlessly integrates web search capabilities into your ChatGPT conversations. This functionality enables you to access pertinent information without interrupting your chat or switching to a different tab. By activating the web search option, you can effortlessly lookup essential details and enhance your conversations with up-to-date facts and figures.
Tailoring Your ChatGPT Experience
TypingMind places customization at the forefront, empowering you to tailor your ChatGPT interactions to suit your preferences. Adjust the response temperature to influence the creativity or conservatism of ChatGPT's generated content. Furthermore, you can determine the number of previous messages included in the AI context, thereby enhancing ChatGPT's recollection of the ongoing conversation. Chat folders and other customizable options ensure that your TypingMind experience aligns perfectly with your needs and desires.
Pricing Options
TypingMind.com offers a range of features at no cost, providing a solid foundation for users. However, to utilize the application, an operational OpenAI API Key is required. When using the OpenAI API Key, you will pay directly to OpenAI based on the credits or tokens utilized. TypingMind.com also offers premium features, available for a one-time purchase, enabling you to unlock an even more extensive range of capabilities.
An improved ChatGPT experience
For anyone seeking an elevated ChatGPT experience accompanied by a sleek user interface, TypingMind is an awesome tool. Its user-friendly nature, absence of login requirements or monthly fees, and browser-based functionality make it fast, accessible, and hassle-free. Run TypingMind locally on your browser using your personal API key, or conveniently download the app from Setapp or the TypingMind website. Unleash the true potential of ChatGPT and embark on a remarkable conversational journey with TypingMind!