Have you ever wondered if there was a browser on Android that allowed you to install Chrome extensions, just like you would on a desktop browser? Well, fortunately, there is! It's called the "Kiwi Browser."
This browser is here to transform your mobile browsing experience. Kiwi Browser is based on Chromium, the same open-source project that powers Google Chrome, making it a reliable and feature-packed alternative for Android users.
How to Download Kiwi Browser 
To get started with Kiwi Browser, you can head to the Play Store, search for 'Kiwi Browser,' and click 'Install.' Alternatively, you can also download it from their official GitHub page.
How to Install Chrome Extensions on Android
Kiwi Browser's standout feature is its ability to run Chrome extensions on your Android device. To achieve this, follow these steps:
1. Open Kiwi Browser: After installation, open the Kiwi Browser just like any other app on your Android device.
2. Access the Chrome Web Store: Go to the Chrome Web Store within the Kiwi Browser. You'll find it in the browser's menu.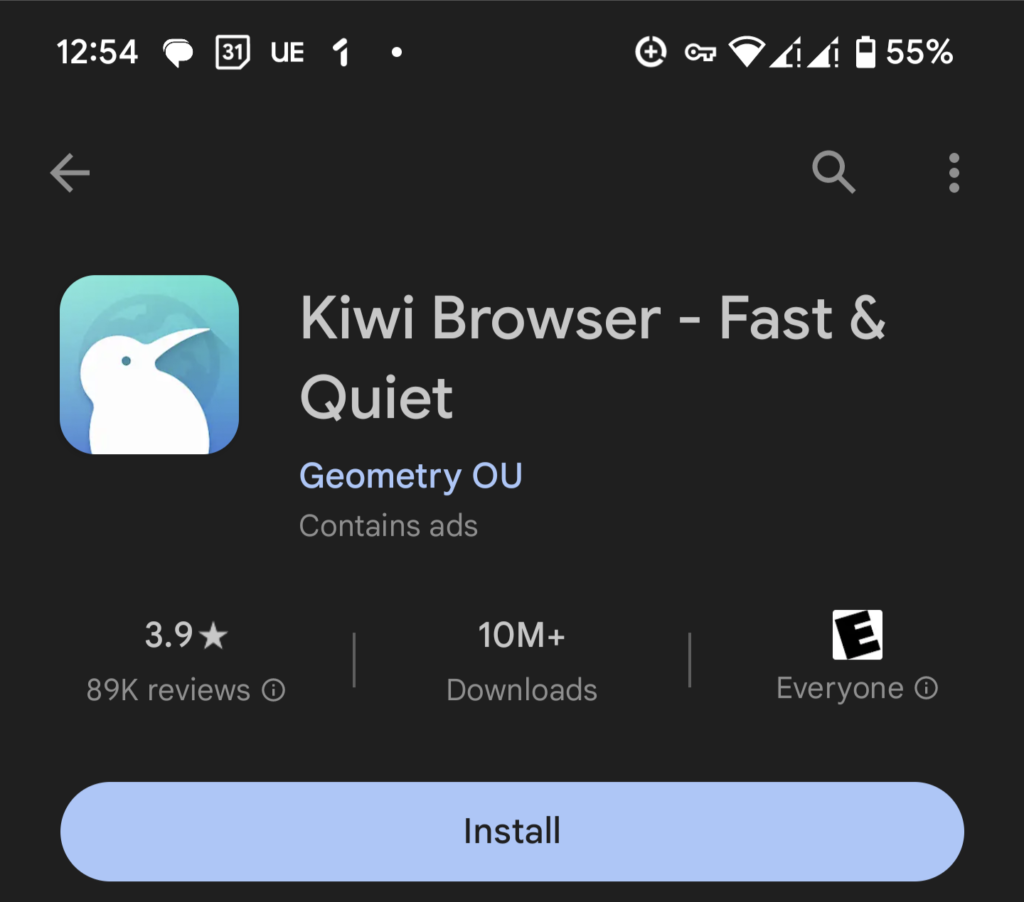 3. Browse and Install Extensions: Search for your favorite Chrome extensions in the store, and click "Add to Chrome" to install. Kiwi Browser provides a seamless experience for adding extensions to enhance your browsing.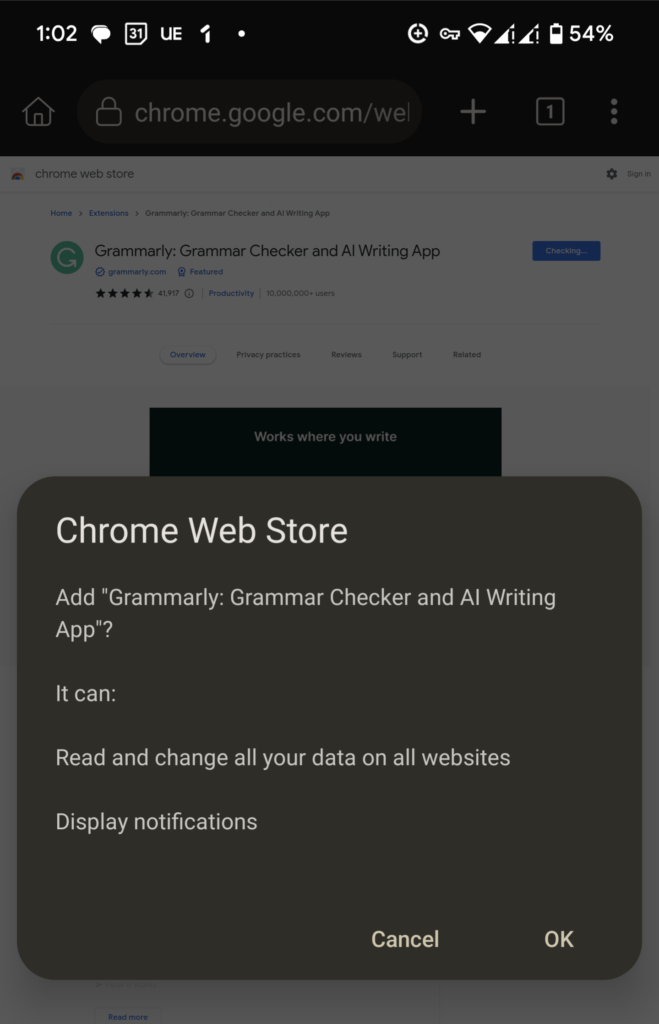 4. Manage extensions: To view and manage installed extensions, click on the three dots on the top right corner to access the menu. Once the menu opens, click on extensions. Refer to the picture below for guidance.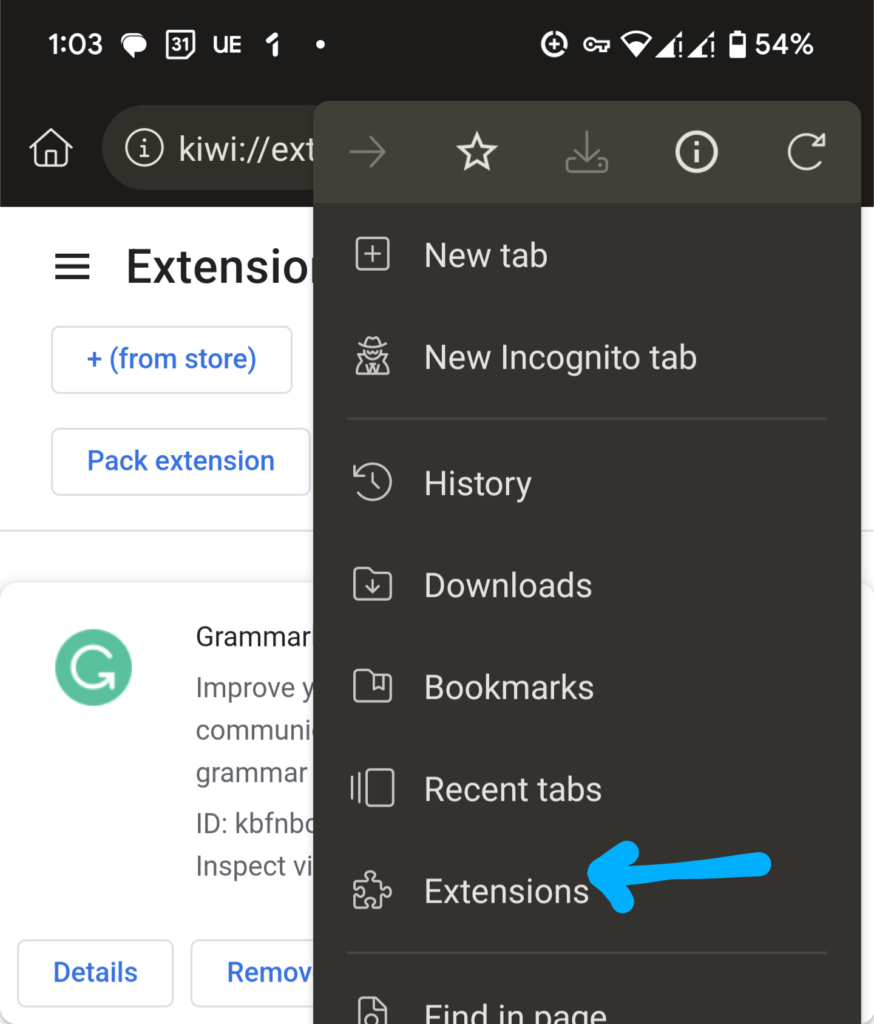 Other Cool Features of the Kiwi Browser (Access to Developer Tools, ad blocker and Night Mode)
Kiwi Browser isn't just about Chrome extensions. It also offers a range of other handy features, such as access to developer tools for web developers, a built-in ad blocker and a convenient night mode for late-night browsing. These features contribute to making Kiwi Browser a versatile choice for all types of users.
Additionally, Kiwi browser adapts to Material You when you change the theme.
How is This Browser Useful for Productivity?
Productivity enthusiasts will find Kiwi Browser particularly valuable. By allowing access to Chrome extensions, it empowers users with tools like note-taking apps, password managers, and task managers, helping them streamline their workflow right on their Android devices. It's like having the power of a desktop browser in the palm of your hand.
How is This Browser Useful to Tablet Users?
Tablet users, too, can benefit from Kiwi Browser's capabilities. The larger screen real estate on tablets complements the browser's desktop-like experience, making multitasking, research, and content consumption more efficient and enjoyable.
Why is This a Big Deal on Android?
The availability of Kiwi Browser, with its support for Chrome extensions, is a game-changer for the Android ecosystem. It bridges the gap between desktop and mobile browsing, offering a more seamless and feature-rich experience for users. This is especially significant for users who rely on specific extensions for work, study, or leisure.
Should You Download Kiwi Browser?
In summary, Kiwi Browser presents a compelling solution for Android users seeking the versatility of Chrome extensions on their mobile devices. This browser not only allows for the installation of these extensions but also offers additional features like developer tools and night mode. 
---
---
Disclosure: Vividbay is a participant in the Amazon Associates Program. We may earn a commission from qualifying purchases.