Mac OS has a feature that can help you save WiFi data and manage your internet consumption effectively. In this article, we'll explore how to enable and use the Low Data Mode on your Mac and understand its importance in reducing data usage.
What is Low Data Mode on Mac?
Low Data Mode on Mac is similar to the feature found on iPhones. This mode is designed to reduce data usage by preventing background processes from consuming excessive data while maintaining essential connectivity. By activating Low Data Mode, you can ensure that your Mac uses WiFi data more efficiently and avoids unnecessary data consumption.
Enabling Low Data Mode on Your Mac
To enable Low Data Mode on your Mac, follow these simple steps:
1. Access System Preferences
Click on the Apple menu in the top-left corner of your screen and select "System Settings."
2. Navigate to Wi-Fi Settings
In the System Settings window, click on "Wi-Fi"

3. Choose Your WiFi Network
In the list of available networks, select the WiFi network you want to enable Low Data Mode for.
4. Access Advanced Settings
Next to the selected WiFi network, click on the three dots (an ellipsis) to access additional settings for that network.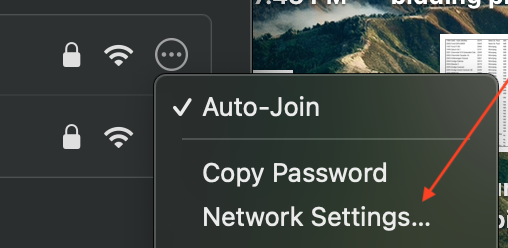 5. Enable Low Data Mode
In the pop-up menu that appears, select "Network Settings." This will take you to a screen where you can toggle on "Low Data Mode."

When Should You Turn on Low Data Mode?
Low Data Mode is a valuable feature to have, and there are specific situations when it can be particularly helpful in reducing data usage on your Mac. 
Here are two key scenarios where you should consider activating Low Data Mode.
While Using Mobile Hotspot
When you're tethering your Mac to a mobile device's hotspot, enabling Low Data Mode can be especially beneficial. Mobile data plans often come with limited data allowances, and using your Mac intensively can quickly deplete your data. Low Data Mode helps restrict background data usage, ensuring that your essential tasks take precedence.
Capped WiFi by Your Internet Service Provider
 If your home or office WiFi has a data cap imposed by your internet service provider, enabling Low Data Mode is a smart move. This feature helps manage your data consumption, preventing unnecessary data usage during non-essential tasks. By doing this, you can avoid overage charges or having your internet speed reduced due to exceeding your data limit.
In summary
Mac OS Low Data Mode is a valuable tool for conserving data when using your Mac. So, the next time you're concerned about WiFi data usage on your Mac, remember to activate Low Data Mode for more efficient internet connectivity.
Additionally, you can click this link to learn how to turn your Mac into a Wi-Fi repeater using Windows 11. This allows you to extend your network's reach and provide connectivity to areas that might have been previously out of range.
---
Disclosure: Vividbay is a participant in the Amazon Associates Program. We may earn a commission from qualifying purchases.