The ASUS ProArt Studiobook 16 3D OLED is an upcoming laptop designed for creative professionals who need a powerful and immersive display. It features a 16-inch OLED screen that can show 3D images without the need for glasses, thanks to Asus Spatial Vision eye-tracking technology. 
It also comes packed with an Intel Core i9-13980HX processor and an Nvidia RTX 4070 GPU, making it an absolute beast.
Design 
The ASUS ProArt Studiobook 16 3D has a sleek and elegant design with a Mineral Black finish. It weighs 2.4 kg and measures 35.60 x 27.10 x 2.09 cm, making it a bit heavy and bulky for portability. However, it has a sturdy build quality and a comfortable keyboard with a rotary dial that can be used to adjust settings in creative apps. 
Ports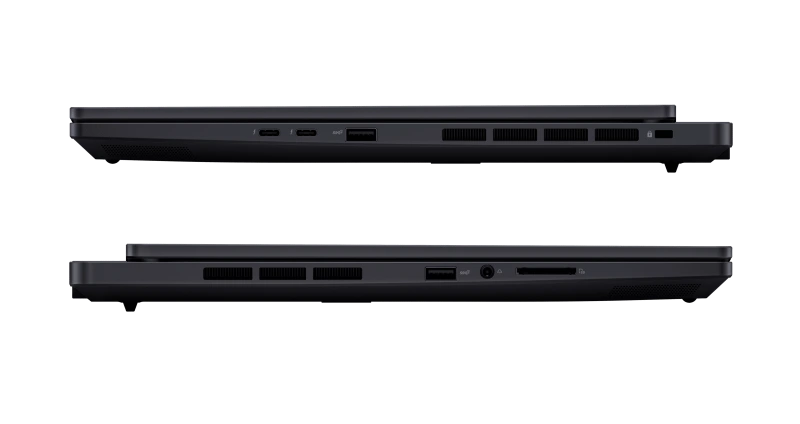 It also has plenty of ports, including two Thunderbolt 4 ports, an HDMI port, an SD card reader, an audio jack, and an Ethernet port.
Display
The main attraction of this laptop is its 3D OLED display, which has a resolution of 3200 x 2000 pixels and a refresh rate of 120 Hz. The display uses eye-tracking sensors to track the position of your eyes and adjust the image accordingly, creating a realistic 3D effect without glasses. 
The display has a wide color gamut of 100% DCI-P3 and fully customizable sRGB, Display-P3 and Native options. The OLED technology ensures high contrast, deep blacks, and vibrant colors.
The 3D display is also ideal for viewing and creating 3D content, such as models, animations, games, and VR. It allows you to see the depth and details of your work more clearly and accurately. It also enhances the viewing experience of movies and videos that support 3D. However, the 3D effect may not work well in super bright environments or with fast-moving objects. It will most definitely consume more battery power than a regular display.
Nonetheless, it's a great viewing experience. It's one of those things that you have to try firsthand to appreciate.
Performance
The ASUS ProArt Studiobook 16 3D OLED is powered by an Intel Core i9-13980HX processor, which has 24 cores and 32 threads and can reach speeds up to 5.6 GHz. This processor is one of the most powerful ones available for laptops and should handle any demanding task you throw at it. Whether you are editing videos, rendering graphics, or running multiple programs at once, this laptop can handle it.
The laptop also has an Nvidia RTX 4070 GPU, which is part of Nvidia's latest generation of graphics cards for laptops. This GPU can run any game or application that requires high graphics performance. It supports ray tracing, DLSS, and VR technologies, which enhance the realism and quality of visuals. 
Storage and RAM
The laptop comes with up to 64 GB of DDR5 RAM and up to 8 TB of PCIe 4.0 SSD storage, which should be beefy enough for most professionals.
Battery life
The previous generation ProArt Studiobook's battery wasn't very impressive. In most cases, you would have to keep the charger with you when moving around.
Hopefully, this model offers improvements in that department despite the 3D display.
Is the ASUS ProArt Studiobook 3D OLED worth it?
ASUS has created a truly compelling device. Despite initial skepticism that its 3D technology was merely a gimmick, it has turned out to be a valuable feature that enhances the user experience. It provides a realistic and immersive visual experience that sets it apart from other devices in its class, making it a standout choice for those looking for cutting-edge technology that truly delivers.
It also boasts powerful performance that can handle any task you need. However, it's not very portable and comes at a hefty price tag. For more laptops, check out our other review of the Dell Precision 7730.
---
Disclosure: Vividbay is a participant in the Amazon Associates Program. We may earn a commission from qualifying purchases.