Lenovo's AIO lineup has been praised for its practical design and affordability. These all-in-one computers are specifically engineered to save space by combining all of their components into the display, making them an ideal choice for smaller workspaces. And when it comes to exemplifying the best features of the AIO lineup, the Yoga AIO 7 takes the cake.
If you're on the hunt for a premium all-in-one desktop computer, the Lenovo Yoga AIO 7 might just be a worthy contender. Here's why.
Design
The Yoga AIO 7 boasts a sleek and modern design that comes in the color Cloud Grey. While some people may find the overall look polarizing, I think Lenovo has done an excellent job with the AIO 7's design. The computer looks stylish and premium.
The display is attached to a metal stand that features a built-in rotational hinge. You can easily rotate the display 90 degrees, and Windows will automatically adjust the orientation accordingly. This feature is perfect for browsing web pages, reading documents, or watching videos in vertical mode. You can even use the Lenovo Link app to mirror your smartphone screen on the PC or use it as a second monitor.
The stand also allows you to adjust the screen height and tilt the screen forward or backwards, which is convenient for viewing content from different angles.
Display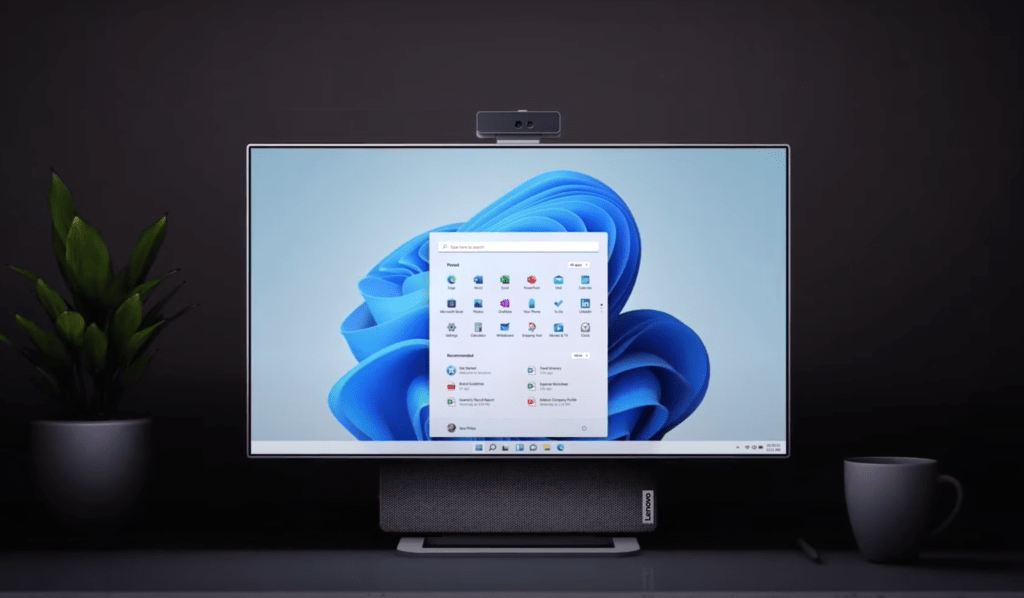 The 27-inch 4K IPS display has thin bezels, offering an immersive viewing experience. It also supports 99% of the DCI-P3 and Adobe RGB color spaces, providing vivid and accurate colors on screen.
The Yoga AIO 7 as an external monitor
The Yoga AIO 7 can serve as an external monitor for your laptop, offering great versatility for professionals with different workflows. The screen can also be split between the external source and the computer OS.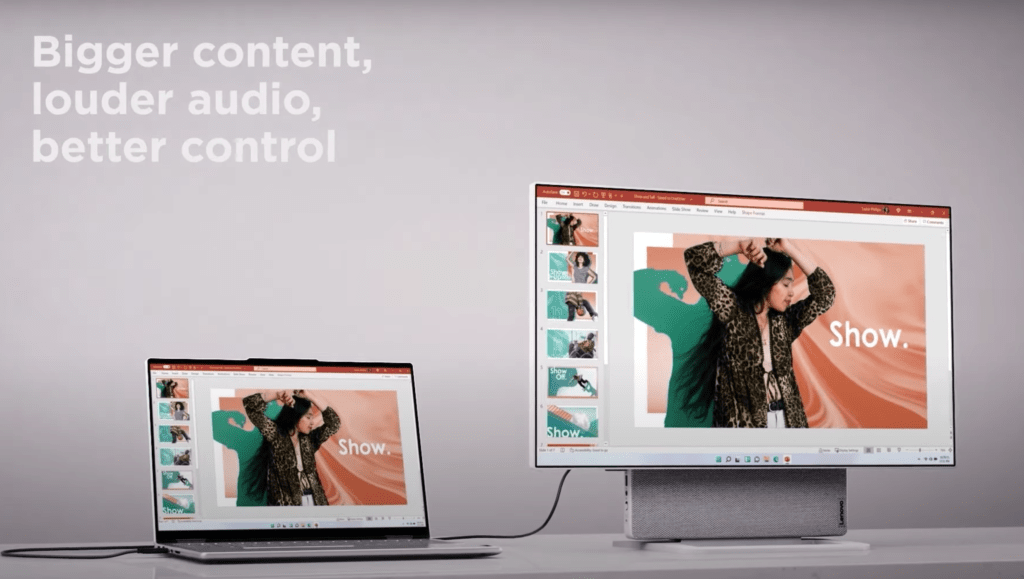 Performance and Sound Quality
The Yoga AIO 7 isn't just stylish, it's also a powerhouse. It's equipped with an AMD Ryzen 7 5800H processor and an AMD Radeon RX 6600M graphics card, making it capable of handling demanding tasks like gaming, video editing, or multitasking. It also has 16GB of DDR4 memory and 1TB NVMe SSD.
The built-in JBL speakers offer clear and loud audio, making it perfect for streaming movies or listening to music. It also has USB-C connectivity and power delivery, letting you charge your laptop or transfer files with just one cable. 
What accessories are included?
Wireless mouse: The mouse is compact and symmetrical. It's powered by one AA battery. 
Webcam module: On the top lies a separate connector where the webcam is attached. When connected, the camera is held by magnets. This design allows adjusting the tilt back and forth and also includes a blocker for maximum privacy. The camera also has an inbuilt infrared sensor for Windows Hello and can record up to 1080p. 
Wireless keyboard: The keyboard is full-sized and has a built-in battery that can be charged through the USB C.
Unfortunately, both the mouse and keyboard feel cheaply made.
Drawbacks
The Yoga AIO 7 is a top-of-the-line PC, but it has one major drawback, and that's the price. At this price range, there are many available options to consider. The included mouse and keyboard also fall short. 
Is the Lenovo Yoga AIO 7 worth it?
Yes, the Lenovo Yoga AIO 7 is an excellent all-in-one PC that offers stunning visuals, powerful performance, and a unique rotating feature. It's ideal for users who want a versatile and stylish PC that can handle demanding tasks. 
If you can afford it and overlook its flaws, the Yoga AIO 7 is definitely worth considering for your home or office. For more tech, click this link.
---
Disclosure: Vividbay is a participant in the Amazon Associates Program. We may earn a commission from qualifying purchases.