In today's interconnected digital landscape, ensuring the security of your personal information has become paramount. One significant step towards safeguarding your online identity is by monitoring activities on the dark web, where cybercriminals often engage in illicit activities. Google One, a subscription service that offers enhanced storage and various benefits, has introduced a novel feature that empowers its members to access their dark web report.
In this article, we will delve into the details of how Google One members can take advantage of this service to gain insights into potential breaches of their sensitive information.
Understanding the Dark Web
The dark web is a hidden part of the internet that cannot be accessed through traditional search engines. It consists of websites and online communities that are intentionally concealed and often used for illegal activities, such as selling stolen data, drugs, counterfeit goods, and more. While the vast majority of online transactions are legitimate, it is crucial to monitor the dark web for any signs of your personal information being compromised.
Google One and Dark Web Monitoring
Google One is a subscription service offered by Google that provides enhanced storage options for Google Drive, Gmail, and Photos, along with various benefits like expert support and family sharing. One of the latest additions to the suite of features offered by Google One is dark web monitoring. This feature is designed to help users keep tabs on the dark web for any signs of their personal information, such as email addresses, passwords, or credit card numbers, being traded or sold.
Steps to Obtain Your Dark Web Report
1. Subscribe to Google One
To access the dark web monitoring feature, you need to be a Google One member. If you're not already a member, you can sign up for a subscription plan that suits your storage needs.
2. Access the Google One Dashboard
Once you are a Google One member, log in to your Google account and navigate to the Google One dashboard. Here, you will find a range of services and benefits available to you.
3. Enable Dark Web Monitoring
Within the Google One dashboard, locate and activate the dark web monitoring feature. This may involve providing some basic information to set up the monitoring process.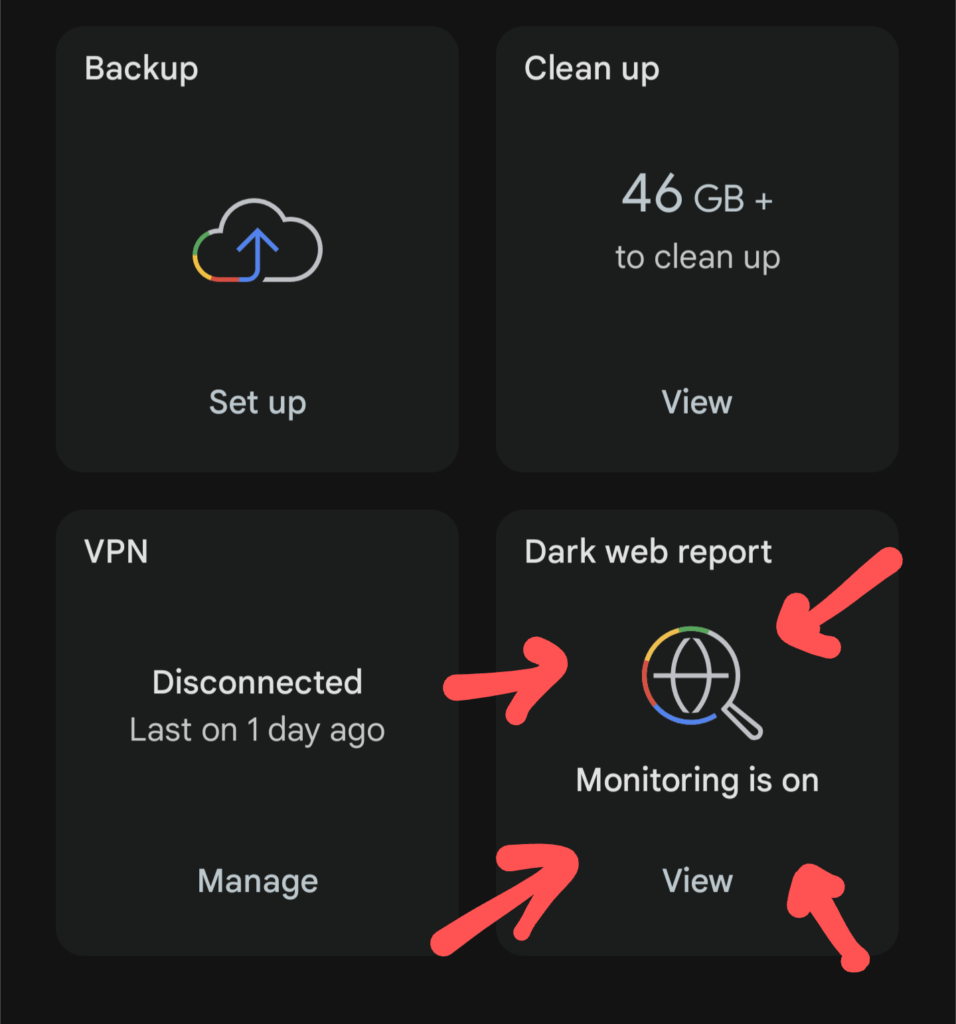 4. Receive Alerts and Reports
Once dark web monitoring is enabled, Google One will periodically scan the dark web for any signs of your personal information. If any potentially compromising information is detected, you will receive alerts and reports detailing the nature of the breach.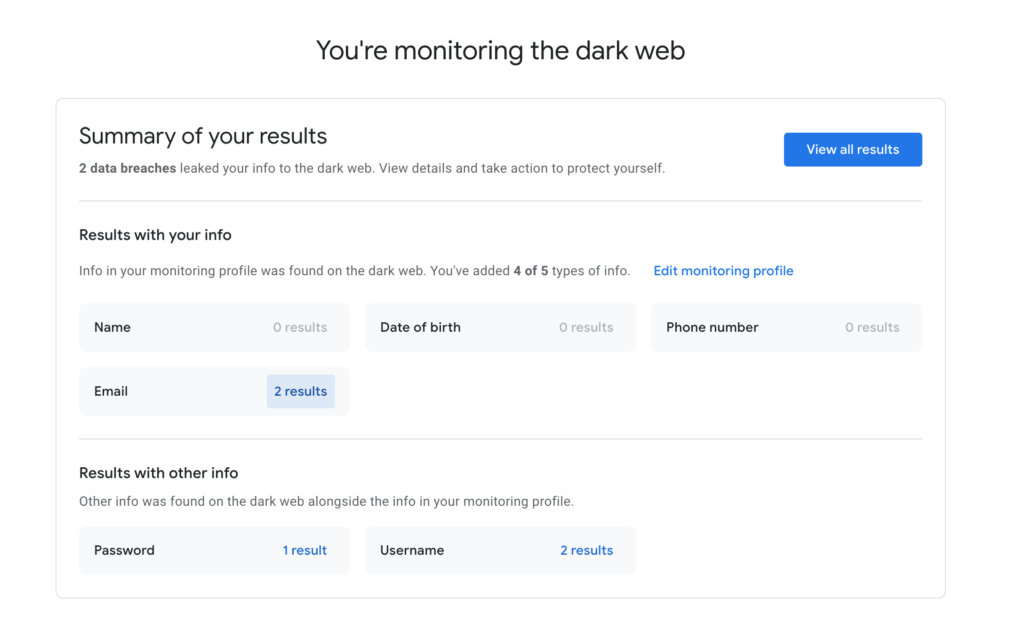 5. Review and Take Action
Upon receiving an alert or report, carefully review the information provided. If any of the compromised data corresponds to your accounts, take immediate action to secure your information. This may involve changing passwords, contacting financial institutions, or updating security settings.
Benefits of Google One Dark Web Monitoring
Proactive Security: Google One's dark web monitoring feature adds an extra layer of security by actively monitoring the dark web for signs of compromised information, allowing you to take prompt action.
Comprehensive Coverage: The service scans a wide range of sources on the dark web, increasing the likelihood of detecting potential breaches that may have otherwise gone unnoticed.
Timely Alerts: Receive real-time alerts and reports whenever your personal information is detected on the dark web, enabling you to address security concerns promptly.
User-Friendly Interface: Google One's intuitive dashboard makes it easy to enable and manage the dark web monitoring feature, even for users with limited technical expertise.
Empowering Your Online Defense: Google One's Dark Web Monitoring in Action
In an era where personal information is increasingly vulnerable to cyber threats, taking proactive steps to safeguard your online identity is of paramount importance. Google One's dark web monitoring feature offers a valuable tool to its members, enabling them to stay informed about potential breaches of their sensitive information. By following the steps outlined in this article, Google One members can leverage this powerful feature to enhance their online security and enjoy peace of mind in the digital realm. Remember that while dark web monitoring is a helpful tool, it is just one part of a comprehensive approach to online security. Regularly updating passwords, enabling two-factor authentication, and practicing safe browsing habits are equally vital in maintaining a secure online presence.