Why settle for scattered browser tabs when you can bring the web to your home screen? If you're an Android user who's been seeking a way to effortlessly monitor specific sections of your favorite websites without the hassle of constant browser visits, Widgetify might just be the solution you've been waiting for. This widget-based app introduces a novel approach, allowing you to capture and display chosen sections of web pages right on your home screen.
How to Use Widgetify: Your Easy Guide to Getting Started
1. Download Widgetify
Begin your journey by downloading the Widgetify app from the Google Play Store. Head over to the Play Store or simply click this link to access the app.
2. Add a Widget to Your Homescreen
Once installed, it's time to create a Widgetify widget on your home screen. Long-press on an empty area of your home screen, select "Widgets," and scroll down until you find the Widgetify option. Tap on it to initiate the widget creation process.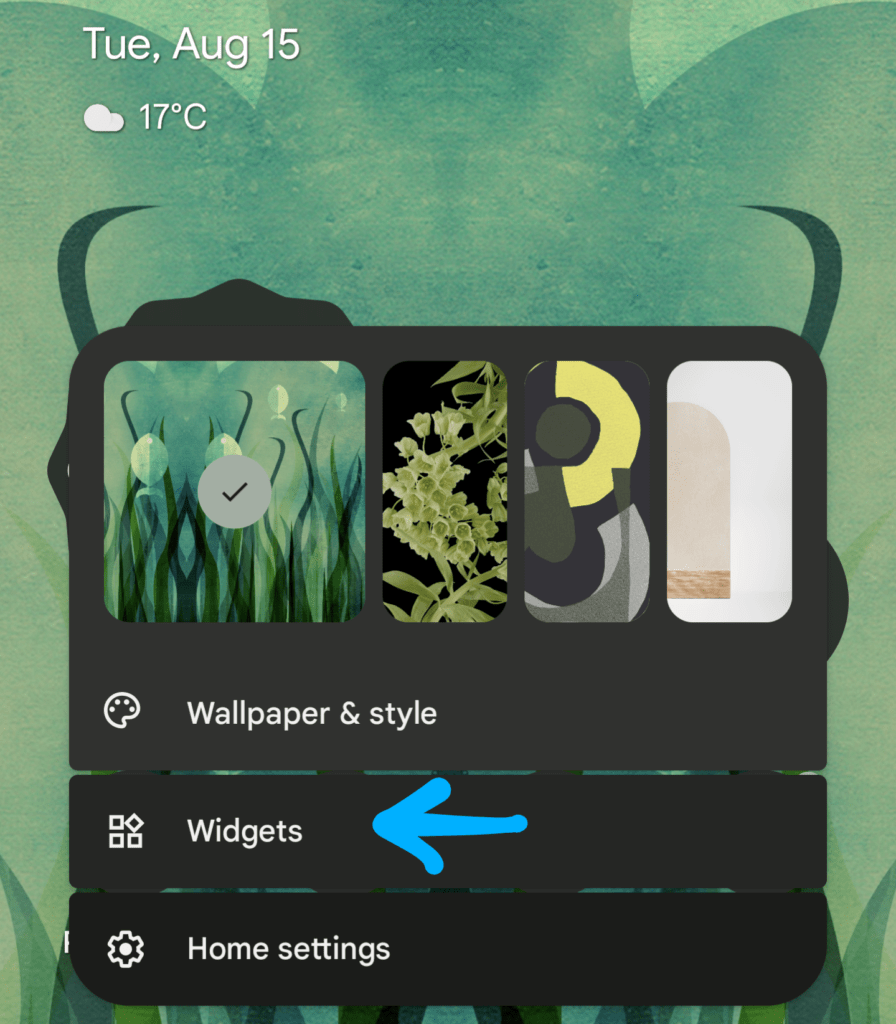 3. Configure Your Widget
After selecting the Widgetify widget, a browser window will open up. This is where the magic happens. You can use the browser to search for any website you want to capture. Whether it's the latest news, stocks, entertainment, or any other topic, the choice is yours.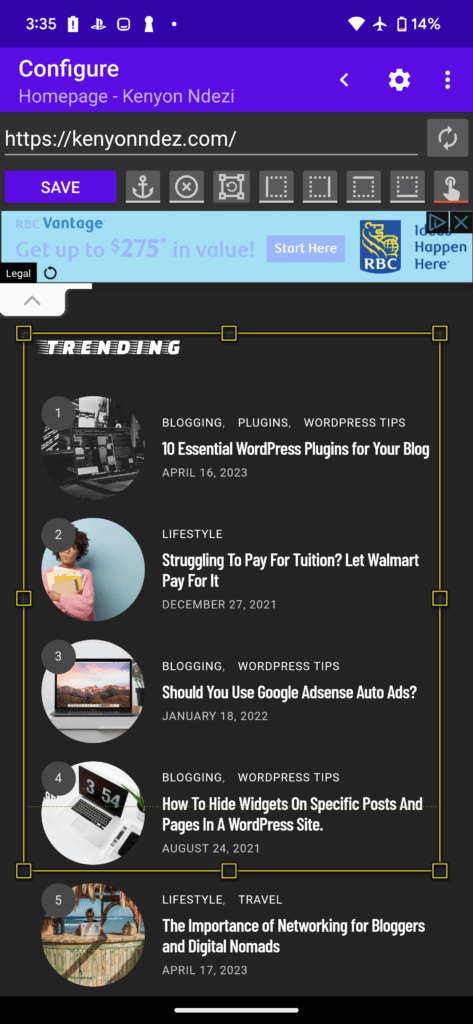 4. Customize and Capture
 Resize and drag the capture rectangle over the section of the webpage you want to see on your widget. Once you're satisfied with the selection, simply click "Save." Voila! Your selected webpage is now a dynamic widget on your home screen.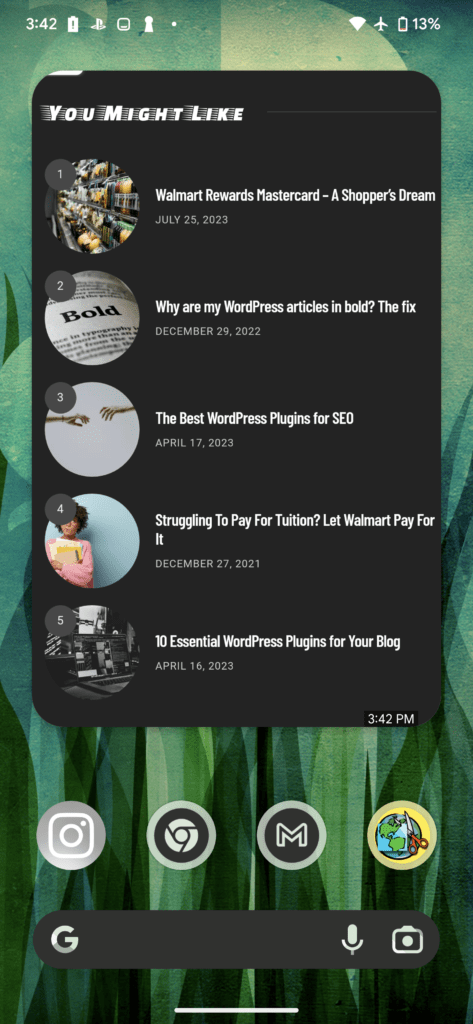 Adjust Appearance Preferences 
Upon experimenting with the appearance settings, I discovered that I actually preferred the widget's look after removing the title bar. Additionally, you have the option to experiment with different themes and image effects. Take a look at this fascinating effect I achieved by inverting the widget's colors. Don't forget to click on the "Save" button to retain these settings.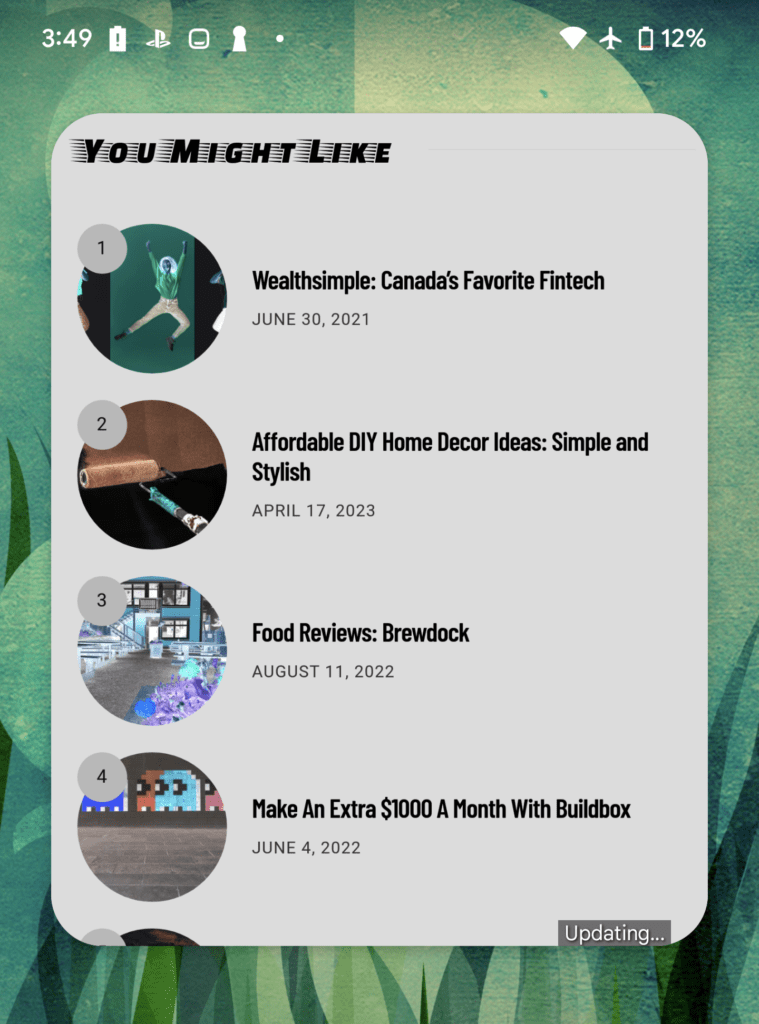 Unleash Your Creativity with Widgetify's Features
Automated Interaction Playback: Widgetify isn't just about capturing static snapshots. It records user interactions and replays them during updates, enabling you to capture sections of web pages that change only after user interactions. It's like having a personal browsing assistant built right into your home screen.
Stay Notified with Change Alerts: Tired of missing updates? Widgetify has you covered. It can notify you when there's a substantial change on the captured section of the webpage. You set the threshold, whether it's pixel-perfect precision or broader changes you're after.
Desktop Mode and Resizing: Sometimes, you want to capture more than what fits within the mobile viewport. With Widgetify, you can use Desktop Mode or resize the viewport to capture wider sections of web pages.
Capture Schedules and Conditions: Flexibility is key, and Widgetify delivers. You can specify when and how often the captures happen. Additionally, you can set conditions based on battery level, network usage, and charging status.
Dark Theme Support: With dark themes being all the rage, Widgetify doesn't lag behind. You can capture web pages in dark mode and even enable dark mode for the app itself.
Execute JavaScript: For tech-savvy users, Widgetify provides the ability to execute JavaScript code before capturing. This opens doors to advanced processing and customization.
Personalized Do-Not-Disturb Settings: Say goodbye to unnecessary notifications during specific hours. Widgetify lets you set up a black-out period for each widget instance, ensuring you're only notified when it truly matters.
Diverse Sizes and Styles: Widgets come in all shapes and sizes. Widgetify supports various sizes, from as small as 1×1 to larger formats, ensuring your home screen aesthetics stay intact.
Beyond the Basics: Unlocking Widgetify's Potential
The array of possibilities with Widgetify is as diverse as the web itself. Here are just a few creative use cases that highlight the app's adaptability:
Adsense Revenue and AdMob Widgets: Stay on top of your ad earnings effortlessly by creating dedicated widgets for Adsense and AdMob tracking.
Stock Market Watcher: Keep a real-time eye on your favorite stocks and companies with widgets tailored to financial websites.
Endless Entertainment: Create widgets for entertainment sites to have a feed of the latest movies, TV shows, and viral content right at your fingertips.
Sports Scoreboards: Sports enthusiasts can create widgets to receive live updates from their favorite sports websites, ensuring they never miss a goal, point, or match result.
Tailored News Feeds: Stay informed with widgets that deliver the latest headlines from your preferred news sources.
The Sky's the Limit: With Widgetify, you can create widgets for any website you can imagine. The possibilities are limited only by your creativity.
Embrace Convenience and Information with Widgetify
Seamlessly integrating into your Android experience, this app empowers you to curate your own digital oasis on your home screen. The ability to capture, customize, and effortlessly stay up-to-date with web content right from your home screen is an innovation worth celebrating. Say goodbye to the need for frequent browser visits and hello to a more efficient way of staying informed.
Download Widgetify today, and transform your home screen into an interactive hub of personalized information and content. With Widgetify, the web is truly at your fingertips.