If you're in the market for a budget-friendly smartphone that combines a stunning display, sleek design, and impressive camera capabilities, look no further than the Samsung Galaxy A54. As one of the newest additions to Samsung's popular Galaxy A series, this phone aims to provide a premium experience without breaking the bank.
Let's delve into what sets the Galaxy A54 apart from the competition.
Display
The Galaxy A54 5G boasts a 6.4-inch Full HD+ Super AMOLED display with an ultra-smooth 120Hz refresh rate. This vibrant and responsive screen enhances every aspect of your mobile experience, whether you're browsing the web or enjoying your favorite videos. The display also features a small hole-punch cutout housing a 32MP selfie camera, enabling you to capture sharp and detailed selfies in well-lit environments.
Design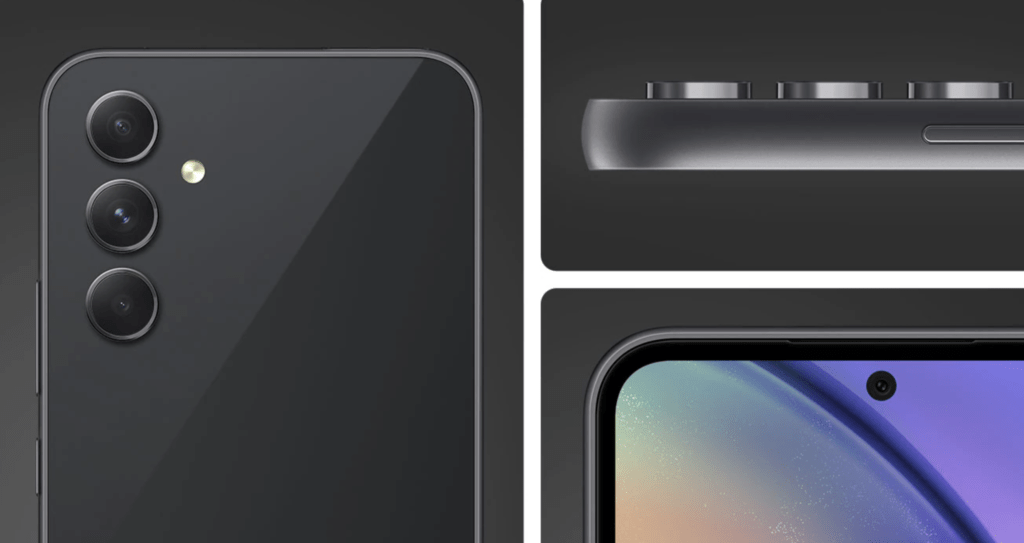 While the back of the phone is made of plastic, it has a glossy finish that closely resembles glass, giving it a premium feel. Moreover, the Galaxy A54 shares the same design language as the more expensive Galaxy S23, making it visually appealing. Available in Lime, Graphite, Violet, and White, this phone lets you express your style while enjoying flagship-like aesthetics.
Camera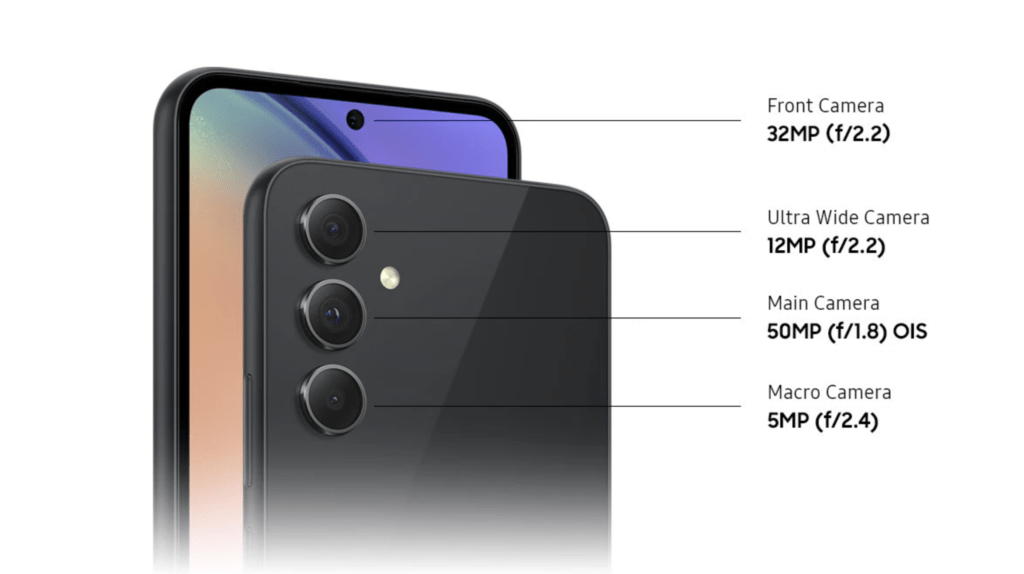 The rear of the phone features a triple-camera setup, including a 50MP main camera, a 12MP ultra-wide camera, and a 5MP macro camera. In daylight conditions, the main camera captures vivid and detailed photos with accurate colors. It also supports 4K video recording and stabilization, ensuring your videos are smooth and professional-looking. The ultra-wide camera expands your perspective, although it may suffer from some distortion and noise. The macro camera allows you to get up close to small objects, but keep in mind that it has a lower resolution and a fixed focus.
Performance
Under the hood, the Galaxy A54 5G is powered by the Exynos 1380 processor, an upgraded chip from Samsung that offers improved performance and efficiency compared to its predecessor. Additionally, the phone comes with either 6GB or 8GB of RAM and 128GB or 256GB of storage, which can be expanded using a microSD card. 
Running on Android 13 with Samsung's feature-rich One UI 5.1 on top, this device provides a seamless and customizable user experience. It's also worth mentioning that the phone supports 5G connectivity, ensuring faster speeds and lower latency in compatible areas.
Battery Life
One of the standout features of the Galaxy A54 5G is its exceptional battery life. Equipped with a large 5000mAh battery, this phone can easily last a full day on a single charge. Moreover, the phone supports 25W fast charging, allowing you to quickly recharge the battery in approximately an hour and a half. Overall, the battery performance on this device is truly impressive.
Now, let's highlight the key pros and cons of the Galaxy A54 5G:
Pros
The phone supports 5G, Wi-Fi 6, NFC, and microSD expansion, offering enhanced connectivity options
Good camera
Long battery life
Vibrant display
Cons
The Galaxy A54 5G lacks a headphone jack, a feature that is still available on some midrange phones.
It's worth noting that the phone does not come with a charger in the box.
How does the Galaxy A54 compare to the Galaxy A53?
The Galaxy A54 features a redesigned look inspired by the flagship Galaxy S23 series. In contrast, the Galaxy A53 sports a more traditional design with a camera bump on a plastic back.
Both phones offer a 120Hz refresh rate and AMOLED technology, but the Galaxy A54 boasts a slightly smaller yet brighter display. With a 6.4-inch screen and 1000 nits of brightness, the A54 surpasses the A53's 6.5-inch screen with 800 nits of brightness.
The Galaxy A54 is equipped with a more powerful processor, the Exynos 1380 chip, promising enhanced performance and graphics compared to the Exynos 1280 chip found in the A53.
In terms of camera setup, the Galaxy A54 features a 32MP selfie camera and a rear setup consisting of a 50MP main camera, a 12MP ultra-wide camera, and a 5MP macro camera. On the other hand, the Galaxy A53 offers a 32MP front camera and a rear setup comprising a 64MP main camera, a 12MP ultra-wide camera, a 5MP macro camera, and a 5MP depth camera.
Both the Galaxy A54 and A53 come with a 5000mAh battery and support 25W fast charging. However, neither phone includes a charger in the box.
While both phones run on Android 13 with One UI 5.1, the Galaxy A54 offers Wi-Fi 6 and Bluetooth 5.3 support, while the A53 has Wi-Fi 5 and Bluetooth 5.0 support.
These are some of the key differences between the Samsung Galaxy A54 and A53. Depending on your preferences and needs, you may find the improvements on the A54 redundant. Nevertheless, both devices offer exceptional value for budget-conscious consumers.
Galaxy A54 Specifications
System chip: Exynos 1380 (5 nm)
GPU: Mali-G68 MP5
RAM: 6GB or 8GB
Internal storage: 128GB or 256GB
Storage expansion: microSDXC up to 1024GB
Weight: 7.13 oz (202.0 g)
Materials: Back: Glass; Frame: Plastic
Resistance: Yes; IP67
Biometrics: In-screen fingerprint scanner
Is the Samsung Galaxy A54 worth it?
While not without its flaws, the Galaxy A54 5G offers remarkable value for its price. Although it lacks features like wireless charging, it more than compensates with its stunning display, sleek design, impressive cameras, and robust software support. If you're seeking an affordable smartphone that excels in most areas, the Galaxy A54 5G is definitely worth considering.